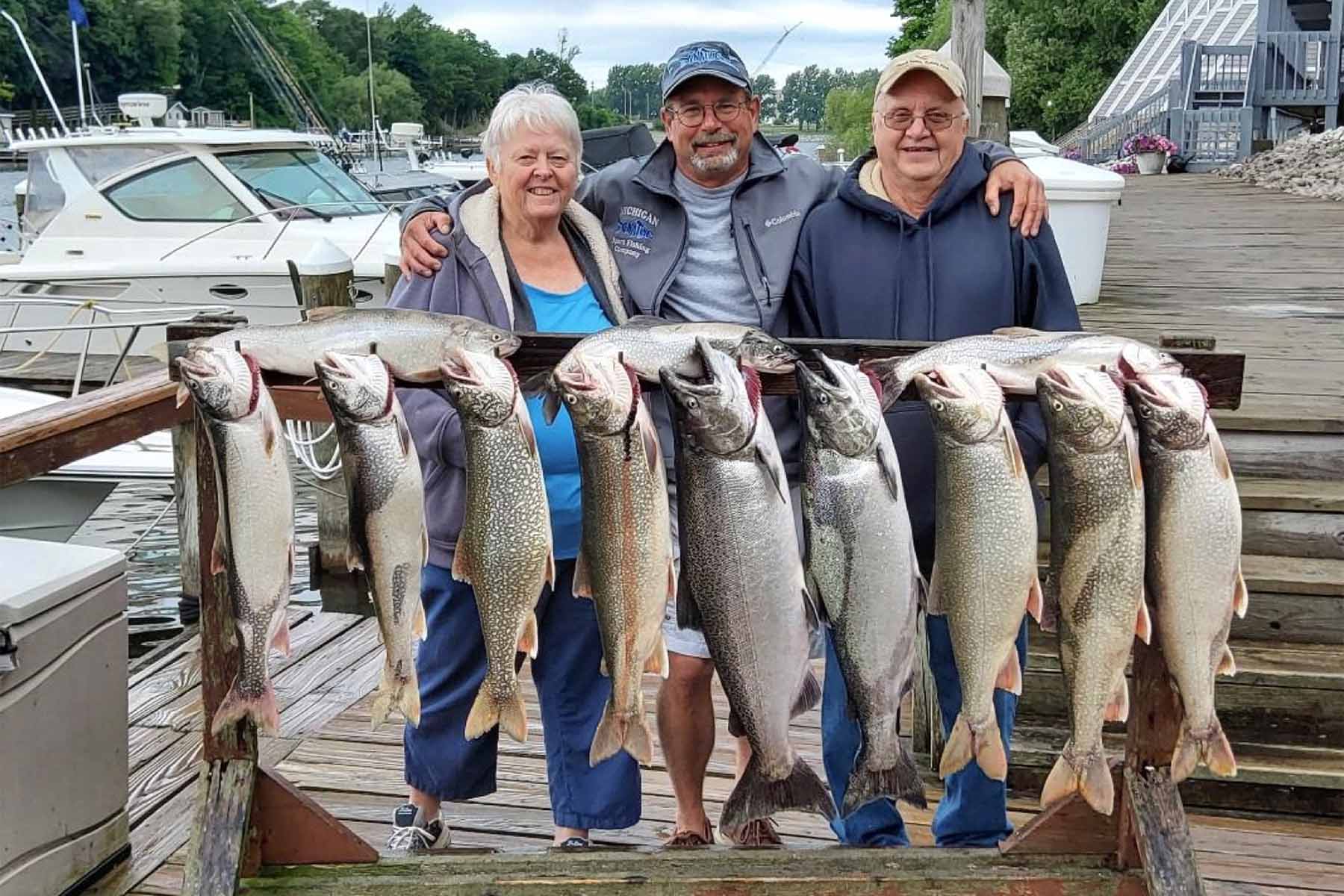 I am absolutely thrilled to introduce you to the world of charter fishing on the stunningly beautiful Lake Michigan! Nestled in the heart of the Midwest, this massive body of water is teeming with a vast array of fish species just waiting to be caught by anglers like yourself. Whether you're an experienced angler or a first-timer, charter fishing on Lake Michigan provides an unparalleled opportunity to catch trophy-sized fish while enjoying the breathtaking scenery and fresh air. With top-of-the-line equipment provided for you, your expert captain and crew will guide you to prime fishing spots and help you master new techniques. From steelhead trout and lake trout to Chinook salmon and coho salmon, Lake Michigan's crystal-clear waters offer some of the best sport fishing opportunities in the world. Get ready for an unforgettable adventure filled with excitement, camaraderie, and unforgettable memories!
May – The Season of Plenty
Spring is an exciting time for fishing enthusiasts as Coho salmon, steelhead, and lake trout become more active. With the warmer temperatures and longer days, these fish move towards shallower waters to feed after the long winter season. Steelhead, lake run rainbow trout, are known for their acrobatic jumps and escape tactics. Coho Salmon are not very big in the spring but highly sought after for their delicious meat. Lake trout can grow to impressive sizes, sometimes reaching up to 25 lbs, making them a popular trophy fish among recreational fishermen, fine eating as well. You may have to put on your long johns and Carharts to keep warm as the water is cold in the spring season, the action is sure to keep you warm. Spring is a great time to book a Lake Michigan Fishing Charter.
Late May – Spring Kings
Just about the time your grand mothers lilacs bloom the lake temperatures warm ever so slightly and the masses of alewife's, the predominant bait fish in Lake Michigan, work their way north along the Michigan coast. Chinook salmon aka "king salmon", follow the migration north. It doesn't last very long, maybe a week, maybe a month. Many years this is the best action of the season. Big fish in shallow water, vial cantankerous creatures known to make avid anglers whine like school girls. Think you want to be a salmon fisherman?
June – Lake Trout
Lake Michigan is world renowned for its Lake Trout fishing, and chartering a boat is the best way to experience it. The size and power of the Lake Trout found in Lake Michigan can be impressive, although many of the eating size variety are caught as well. Want to take the kids fishing? June is a great time. The days are long, the water calm, and the fish are hungry. Limit catches of Lake Trout are common this time of year.
Early July – Steelhead
If you're looking for a fun and exciting fishing adventure this July, Lake Michigan is definitely the place to be! The steelhead population in this pristine body of water is abundant during the summer season, making it a prime spot for avid anglers. Steelhead are known for their acrobatics and energetic fight, so be prepared to battle these hard-fighting fish when you hook one. They prefer cooler waters offshore where the thermal breaks set up, and the bugs hatch. Steelhead love bugs. Ready for an unforgettable fishing experience on Lake Michigan this July?
Mid July – August
Summer is a great time to enjoy the bounty of Chinook salmon in Lake Michigan. These prized fish are known for their large size and delicious flavor, making them a favorite among anglers and seafood lovers alike. During the warm months of July and August, Chinook salmon can be found throughout the lake, usually in deeper waters near underwater structures or drop-offs. Fishing for them requires patience and skill, but the reward is worth it when you reel in one of these majestic creatures. Screaming drags and sore arms rule the day.
At the end of August into September kings and coho will run the river to spawn. One of the best times to catch a master angler fish.
September – October
As the sun leans to the south, the breeze to the north, fall changeover has arrived. The lake cools and the sounds of migrating fowl dominate the morning. With the adults up the river juvenile salmon and steelhead school up offshore. On days when the lake allows passage the action can be fast and furious.
Tips for Successful Charter Fishing on Lake Michigan
Choose your captain wisely – it's your choice! Many charter anglers have found it takes years of trial and error to find a Charter Captain who best meets their needs, desires, and budget. Since the 1970's the charter boat industry has grown dramatically, most captains are superior boat operators and are required to pass boat inspections. They are excellent anglers, and have a good knowledge of the water, weather, and where to find fish. Most will also go the extra nautical mile to make your experience memorable. Avoid the occasional bad charter by asking the proper questions before your charter trip is booked.
Conclusion and final thoughts on charter fishing Lake Michigan
Ready for an absolutely exhilarating experience! The sheer excitement of reeling in that first catch, the thrill of the fight and the satisfaction of finally bringing it on board is indescribable. To top it off, the breathtaking views of Lake Michigan only add to the charm of this experience. Fishing with experienced captains who know where the best hotspots are undoubtedly will improved your chances of catching big fish. Anyone who loves adventure should try this out at least once in their lives. It's affordable, fun-filled and easily accessible – definitely a must-do for anyone looking for something new and exciting to do! Book your lake Michigan fishing charter today!